Course Summary:
This lecture addresses common implant complications, both biologic and biomechanical aspect as well as the approaches to avoid these problems before they occur. A decision tree of how to manage these complications will be presented. The pros and cons of techniques used to treat implant diseases/complications such as chemotherapeutic agents, apically positioned flap, implant surface detoxification, implantoplasty, guided bone regeneration, soft tissue grafts, implant removal as well as re-implantation will be discussed.
Course Presenter:
Dr. Hom-Lay Wang is a Collegiate Professor of Periodontics, Professor and Director of Graduate Periodontics at the University of Michigan. He received his BDS from Taipei Medical College, Taipei, Taiwan, his DDS and MSD from Case Western Reserve University, and PhD from Hiroshima University, Japan. He has published more than 22 book chapters/invited reviews and more than 300 scientific articles. Dr. Wang is a Diplomate and a former Co-Chair and Director of the American Board of Periodontology and a Fellow of the American College of Dentists. He has served as a Consultant for the ADA Commission on Dental Accreditation, past Editor-in-Chief for the Open Dentistry Journal and serves as an Associate Editor for The International Journal of Oral & Maxillofacial Implants.
Dr. Wang is the recipient of the AADS clinical research fellowship award, the Charles E. English award in Clinical Science and Techniques, the Morton L. Perel award for Dental Implant Educator, the AAP University of Michigan Outstanding Teaching and Mentoring in Periodontics and the 2013 AAP special citation award among other honors.
Course Information:
Date: Saturday, August 2, 2014
Time: 7:30 am - 8:15 am – Registration/continental breakfast 8:15 am - 1:30 pm – Presentation
Location: Beasley Auditorium, BUMC
Questions: Please contact: DRoberts@bcd.tamhsc.edu or call 1-214-828-8140
Credit: 5.25 Hours Lecture
AGD Codes: 697 Implant Diagnosis and Treatment Planning, 695 Implant Reconstruction, 693 Implant Maintenance
Continental breakfast/Late Morning refreshments
Course Topics and Objectives:
Understand decision tree used to select treatment modalities for the management of implant complications
Know how to properly manage peri-implantitis
Recognize etiologic factors that may contribute to implant complications
Learn how to prevent future implant complications
Arthur H. Merritt, D.D.S. (1870- 1961) was one of the early pioneers in periodontics. In his later years, he was known as the "Dean of Periodontists." His office was located on 5th Avenue in New York for many years.
The Arthur H. Merritt Lecturers
| | | | | |
| --- | --- | --- | --- | --- |
| 1972 | Dr. Helmut Zander * |     | 1994 | Dr. William Becker |
| 1973 | Dr. Donald A. Kerr* |     | 1995 | Dr. Michael G. Newman |
| 1974 | Dr. John F. Prichard* |     | 1996 | Dr. Jay S. Seibert* |
| 1975 | Dr. Sigurd P. Ramfjord* |     | 1997 | Prof. Giovan Paolo Pini Prato |
| 1976 | Dr. S. Sigmund Stahl* |     | 1998 | Dr. J. Gary Maynard* |
| 1977 | Dr. Harald Löe* |     | 1999 | Dr. Niklaus Lang |
| 1978 | Dr. Sigmund S. Socransky* |     | 2000 | Dr. Dennis P. Tarnow |
| 1979 | Dr. Jan T. Lindhe |     | 2001 | Dr. Sebastian G. Ciancio |
| 1980 | Dr. Robert G. Schallhorn |     | 2002 | Dr. Maurizio S. Tonetti |
| 1981 | Dr. Knut A. Selig |     | 2003 | Dr. Louis F. Rose |
| 1982 | Dr. Timothy J. O'Leary* |     | 2004 | Dr. Gary C. Armitage |
| 1983 | Dr. William K. Bottomley* |     | 2005 | Dr. Terry D. Rees |
| 1984 | Dr. Robert J. Genco |     | 2006 | Dr. Daniel Buser |
| 1985 | Dr. Max A. Listgarten |     | 2007 | Dr. Raymond A. Yukna |
| 1986 | Dr. Sture A. Nyman* |     | 2008 | Dr. Brian A. Mealey |
| 1987 | Dr. Roy C. Page |     | 2009 | Dr. Edward P. Allen |
| 1988 | Dr. Burton Langer |     | 2010 | Dr. Michael K. McGuire |
| 1989 | Dr. Alan M. Polson |     | 2011 | Dr. Maurice A. Salama |
| 1990 | Dr. Myron Nevins |     | 2012 | Dr. Stuart J. Froum |
| 1991 | Dr. Gerald M. Bowers |     | 2013 | Dr. Anton Sculean |
| 1992 | Dr. Jens J. Pindborg* |     |   |   |
| 1993 | Dr. Ray C. Williams |   |   |   |
 * Deceased
 Course Organizer: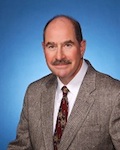 Dr. Jeffrey A. Rossmann is a graduate of the University of Minnesota School of Dentistry and a native of St. Paul, Minnesota. He completed periodontal training at the U.S. Army Institute of Dental Research, Washington, DC and earned his Master's degree from George Washington University.  Much of the success of the Arthur Merritt Lectureship can be attributed to the efforts of Dr. Rossmann as he brings world-class speakers to BCD and reconnects alumni, faculty, and residents for this special annual program. He has organized this program for the last five years.
Currently he is a Professor and Chairman of the Department of Periodontics at Texas A&M University Baylor College of Dentistry, Dallas, TX.  Prior to coming to Dallas, he has held positions as the Clinical Director for Graduate Periodontics at the University of Texas, Health Science Center, Dental Branch, Houston, and as the Assistant Director for Graduate Periodontics in the United States Army, Dental Corps. He is a retired Colonel in the U. S. Army.
He is Board Certified by the American Board of Periodontology, a Fellow in the American College of Dentists, and a Fellow in the International College of Dentists. He is currently a Director on the American Board of Periodontology. Dr. Rossmann has lectured both nationally and internationally on many topics, including tissue regeneration and dental esthetics. He has become well known for his work using lasers in periodontal therapy. Dr. Rossmann has published over 35 peer-reviewed articles and book chapters.
Dr. Rossmann is a Paul Harris Fellow of Rotary International and actively participates in community service projects. He is on the dental staff of the Children's Medical Center of Dallas and the Texas Scottish Rite Hospital for Children. He has a part-time private practice limited to periodontics and implants and is married with two daughters and one granddaughter.
---
TAMBCD Office of CE Registration Information, Certifications & Cancellation/Refund policy:
Texas A&M University Baylor College of Dentistry is an ADA CERP Recognized Provider. QUESTIONS: Please feel free to call us at 1-214-828-8238. For quickly response please email your questions through the online registration website
ADA CERP is a service of the American Dental Association to assist dental professionals in identifying quality providers of continuing dental education. ADA CERP does not approve or endorse individual courses or instructors, nor does it imply acceptance of credit hours by boards of dentistry.
Concerns or complaints about a CE provider may be directed to the provider or to ADA CERP at www.ada.org/cerp. Continuing education credits issued for participation in the CE activity may not apply toward license renewal in all states/provinces. It is the responsibility of each participant to verify the requirements of his/her state/provincial licensing board(s).
CONFIRMATIONS: Will be sent by e-mail to the official email address provided by the attendee to the registration website. Exact email is necessary
REGISTRATION CANCELLATION:Tuition is refundable if a course is canceled by the Office of CE. A $50 fee will be assessed for any course cancellation. All payments by check or cash are deposited into the Texas A&M account and CANNOT be refunded. "No Shows" for a course forfeit all tuition. Confirm notification of cancellation by e-mail.The CE Office cannot be held responsible for a non-refundable airline ticket.
Have questions about 43rd Annual Arthur H. Merritt Memorial Lectureship? Contact Texas A&M University Baylor College of Dentistry.